Written by Carol…
I work for a bespoke Wedding Ring Company called Smooch.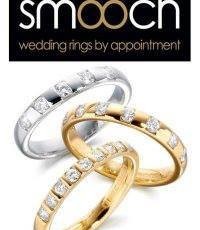 There are over 50 advisers who cover the whole of the UK and Northern Ireland.
We take approximately 250 ring samples out to our customers in the comfort of their own homes, where they have time to browse our selection without pressure or hassle to buy.
We can add diamonds, engraving and patterns to their chosen ring profile or they can design some thing that is unique to them.
The appointment is free and with no obligation.
Every customer gets a choice of 4 free gifts for their bridesmaids and/or their best man just for having us out and letting us show you what we can do.
For more information > Click here