A group of Lincolnshire wedding suppliers got together…
Why?
To showcase a brand new, and simply stunning wedding venue in the area!
The beautiful barn style venue is a re-envisioned 16th century barn set in local and much loved gardens for all seasons.
Gillian, owner of Bridal Reloved Caistor tells us more…
The styled shoot brought together a group of people from the wedding industry who all feel passionately about what they do and who wanted to bring to life the romance and beauty of a place that has quietly done its thing for half a century, re-inventing itself with the love and commitment of those who have and continue to nurture and care for it and for others to share in its magic.
This little piece of paradise known to us as Goltho Gardens is situated off the Lincoln Road in Goltho, just outside Wragby and in the heart of rural Lincolnshire.
I've driven past Goltho Gardens countless times and always thought 'I must go there sometime', it's always the same when it's on your doorstep.
But when Goltho Gardens decided to offer up their incredible barn for weddings, who wouldn't jump at the chance to spend some time in this magical place and create something spectacular.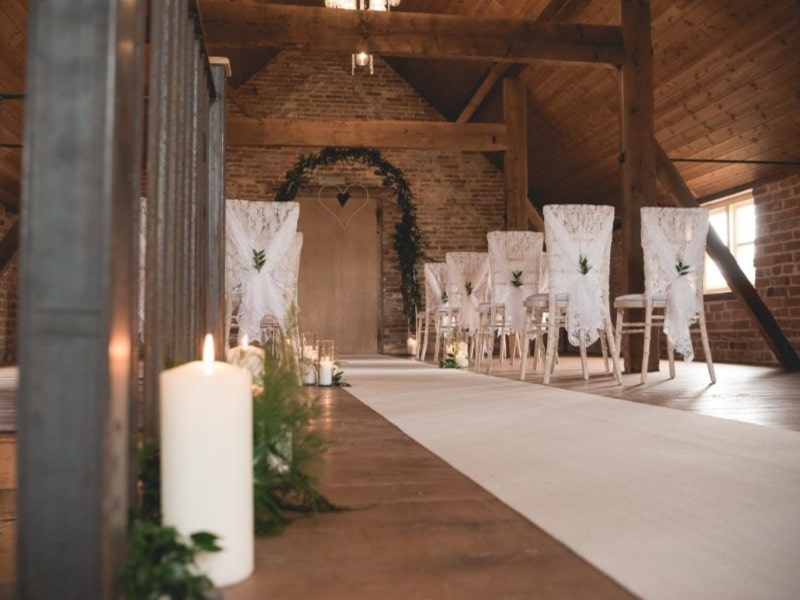 Goltho Gardens is a hidden gem in the rolling rural countryside of Lincolnshire that offers up spectacular gardens, a dream of nature with so many picture-perfect spots it's a photographers dream. 
The gardens are beautifully maintained with a focus on the natural cycle of growing and the love and joy that goes into these gardens is palpable as you move through the different areas.
During September, the lily pond is an amazing sea of green with the odd duck or two enjoying themselves in it!
The lawned avenue gives an incredible backdrop from both ends; from the main house, to the obelisk marking the end of the walk and the woodland is awash with the gorgeous pinks of cyclamens perfectly framed in the dappled late afternoon sunshine, with the trees just beginning their journey into autumn.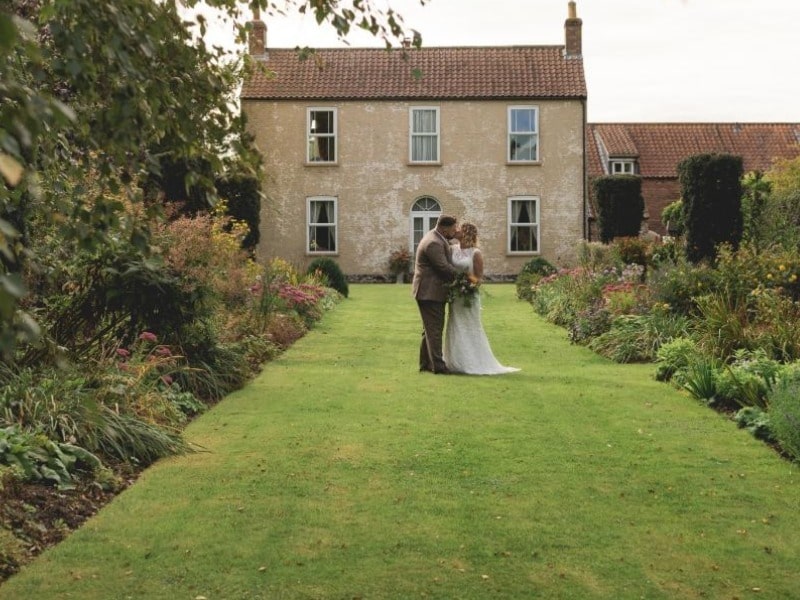 Debbie Hollingsworth of Goltho Gardens Weddings adds…
Goltho Gardens started life back in 1999 and is a family-run English garden, tearoom and plant nursery.
Our exciting new venture into the wedding scene with our unique 16th century brick barn where we will now offer couples a chance to create their wedding day their way in the  newly restored barn creating a wonderfully romantic setting.
Couples and their guests can enjoy both the atmospheric high ceilings for welcome drinks, live music or even a banquet style event in one side of the barn. There is also the option of two floors to enjoy, with an upper floor for a wedding breakfast or quieter space away from the party and a lower floor encased with brick and beautiful wooden beams where guests can grab a drink from our rustic bar made with wood dating back to C1500's.
Our stunning gardens are a wedding photographers dream come true, with year-round interest in plant, trees & flower colour and texture. The garden boasts a long grass walk flanked by abundantly-planted borders with herbaceous perennials and a network of paths meander through these beautiful grounds.
There's also the nut walk; with delightful peony and rose gardens and the stunning wildflower meadows are at their best in spring and early summer.
A prairie border and gravel garden also provide late summer and autumnal interest and we are looking forward to sharing all this magical beauty with couples on their memorable wedding days with us.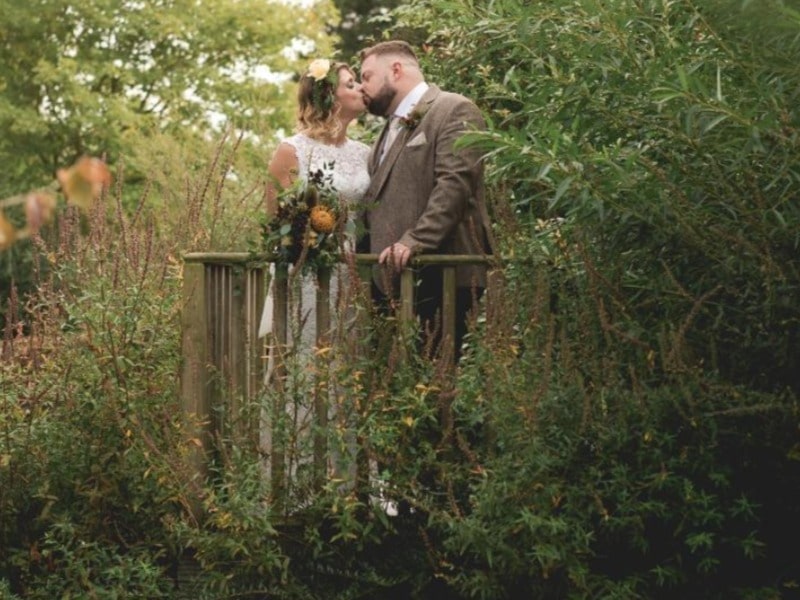 When I was asked if I'd like to be involved in a bridal shoot at Goltho Gardens bridal shoot I didn't hesitate for a second, I've been in the industry for 22yrs and change and I love anything bridal, particularly something a little different, I'm all for it!

Goltho Gardens is a venue I had never been to and I was wowed when I arrived, it was truly stunning and a fabulous place for a wedding with a truly romantic vibe.

I knew this shoot was special and wanted to create a look to suit the changing season and autumnal vibe, with warm gold and chocolate tones that also complemented our lovely model Hannah's skin tone.

Our florist Julie was creating a fabulous floral hairpiece with the most beautiful flowers and I wanted to give Hannah soft curls that framed her face that would also move naturally in the gentle breeze on the day.
My husband and I started this adventure together after been blown away at our own wedding down in lovely Devon. I fell in love with the decor and the light up letters we hired for our big day and that was it.

After having our second child, I had to decide whether to go back to a job I wasn't passionate about or to take a leap into the unknown; I like an adventure and our business; 'Love in the Limelight' was born.

We have been operating for two years now, have a showroom, hire out everything from chairs, backdrops, light up letters and much much more… and we cover so many different styles.

So, this brings me to the amazing photoshoot at Goltho Gardens. Wow, a hidden gem right on our doorstop.

When Gillian from Caistor Reloved Bridal asked us to come down to meet Debbie and take a look around to see if we wanted to be part of the team, we jumped at the opportunity and were blown away with the beauty of the grounds and the charm of the barn.

We showcased a few different styles after deciding it was a lace/autumnal theme working alongside the lovely Julie to enhance our props and styling.

What an amazing day, with an amazing team of suppliers working together to produce a magical day and shoot. We all discussed a theme which would best suit Goltho Gardens and bring a vision to life for couples to really feel the magic here.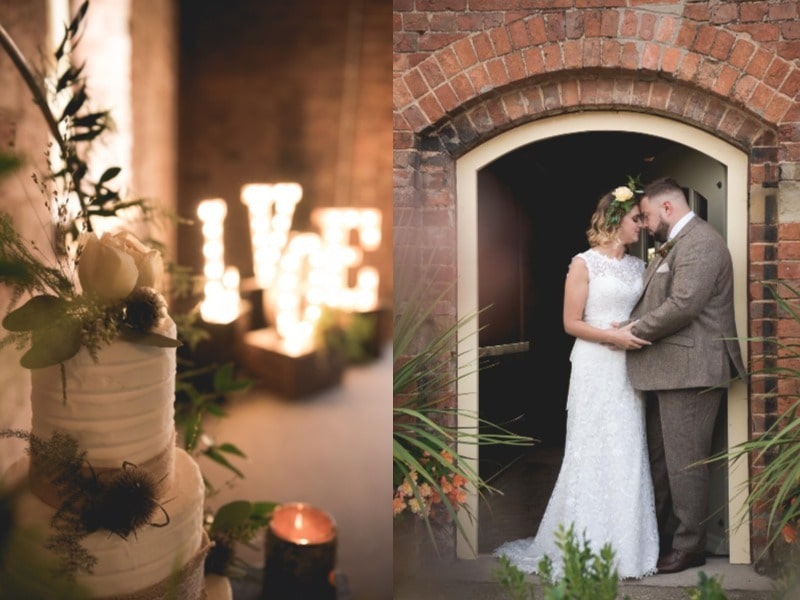 Carol is an expert maker of cakes and purveyor of all things sweet and was a natural choice for a rustic style cake that really suited the venue.

Dressed in beautiful flowers to match the theme it managed to stay in one piece throughout the day.
I was overjoyed to be asked to be part of this shoot, particularly as Goltho Gardens has such a long history of bringing joy and beauty into peoples lives.

I'm an independent civil celebrant and I craft ceremonies around the individuals involved, so there are no templates here. Every wedding I do is different, because every couple is different. I love getting to know my couples, finding out about their love story and joining them in this next step of their journey.

Together we craft symbolic parts of their ceremony that mean something to them.

During this shoot we used a number of ceremonies that I hope capture the magic of Goltho Gardens as a wedding venue.

A candle unity ceremony can take many forms. One of the most popular is that the parents of the couple come forward and light a candle for each. The couple then light the centre candle from the two outside candles. This shows the joining of their families, the merging of two souls into one lifetime.

Many of the symbolic elements we use have been handed down through generations. And so it is with the Quaich or loving cup which has been in use in Scotland for centuries, becoming more popular in its current form in the 17th century. The couple can use it to blend whisky, as their lives will be blended, wine, or beer, and then they take a handle each to drink, showing all gathered that they trust each other to share the cup. It's also a useful vessel to keep the rings in!

Hand-fasting is also an ancient and symbolic element, that is particularly beautiful when outside, surrounded by nature. Initially it was to formally promise, or to make a promise in terms of a contract of marriage. It's also where we get the term tying the knot! The cords or ribbons used can be tied in with your colour theme, charms can be sewn on, and you can even make them yourself, or you could use some material that means something to you, a loved one's scarf, or a piece from some clothes that mean something to you.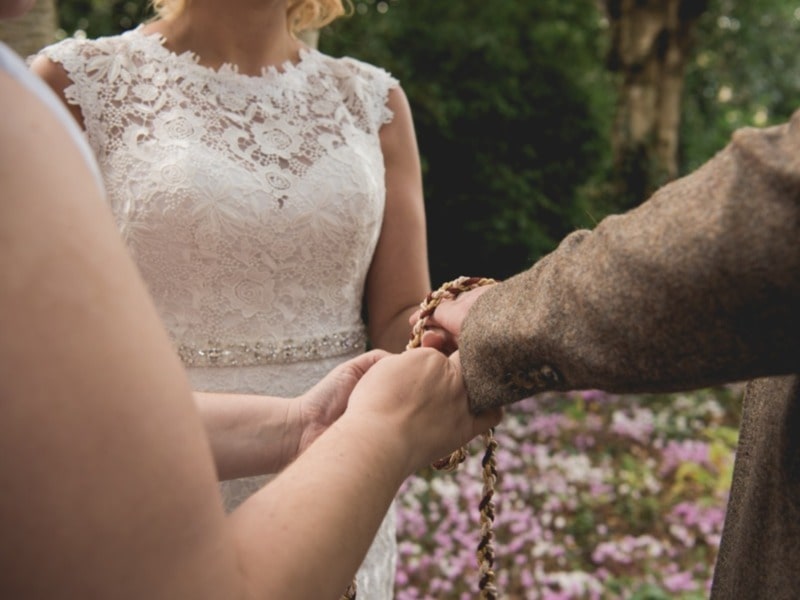 I loved everything about the idea for this shoot, of course I love all things floral, it's kind of what I do and the opportunity to create something special in a venue as beautiful as this was not to be missed.

I started my business 3 years ago after working for 20 years in a floristry shop.

It has always been important to me to be true to my passion for florals and to bring my brides visions to life using locally grown flowers as well as my home-grown stock.

So when this opportunity came along after 3 years of getting out there in the wedding florist world, well who would say no?

I like to get creative and not always use the expected when it comes to flowers.

Gillian gave me an open range to design and choose the flowers I wanted.

Being Autumn, I wanted to reflect the warmth and rich tones of the season with lots of tactile textures and using some flowers for the arrangements from the beautiful gardens of Goltho itself.

At one point I could have been lost for days with secateurs' in hand.
I have been wanting to get into this beautiful place for a long time, and now as a new wedding venue and having an opportunity to be involved in this very first shoot, I was falling over myself with glee.

The season, the venue and the styling of this shoot shouted out for natural photographs and working with a real couple made it so much easier to capture true emotions and real love, true moments that reflect the romance here so well.

Goltho Gardens is an absolute treat for any photographer to work in, both indoors and out – we were so spoilt for choice of areas to shoot.

Working in collaboration with such talented suppliers made a real difference too. Every local supplier listened to the other and bounced off their ideas, creating something wonderful, as can be seen in these beautiful photographs.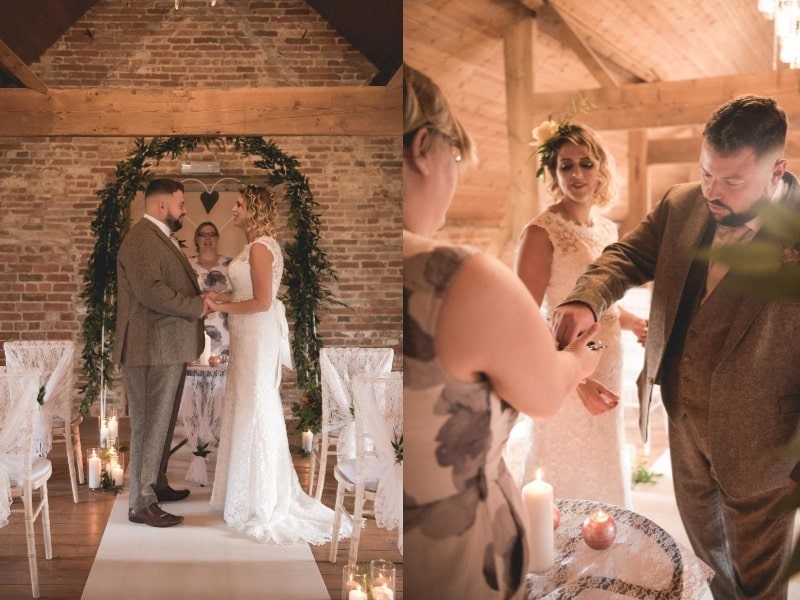 It was Jeni who commented that sometimes details get missed and nicely manicured hands with beautiful nails to showcase wedding rings are sometimes one of those missing details.

In came Amanda who went to work and crafted beautiful hands and nails for our lovely bride who then swore off any kind of manual activity for the rest of the month.
Andrea at Coastal Silver specialises in fine and handcrafted silver jewellery, bespoke and custom designs.

She loved the idea of providing wedding rings for our bride and groom as part of the ceremonies carried out by Leni.

The silver rings are hand crafted and each is unique and beautiful.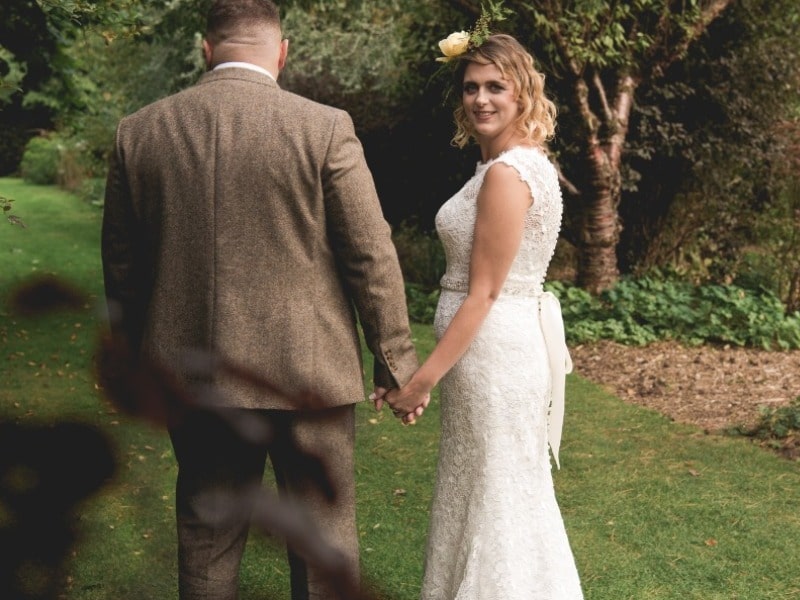 Julie really pulled it out of the bag providing a beautifully tailored brown tweed suit that worked perfectly with the autumnal theme, and shirt complete with braces and cufflinks for our last-minute groom Lloyd.

Lloyd is not usually a suit wearer but absolutely loved his well-tailored outfit and was not too keen to hand it back at the end of the day.
With all this natural beauty to contend with, the choice of dress was a tough one, but there was really only one that would do this shoot justice, a beautiful full bold lace Eternity gown in a figure flattering fit to flare shape, both elegant and graceful with full length buttons and added belt for just the right amount of sparkle.

The dress was perfect on Hannah who wore it with all the grace of a bride on her wedding day, even shedding her shoes at one point to glide elegantly down the lawned avenue on the arm of her handsome beau, Lloyd.

All told, we started this day as a group of wedding suppliers all wanting to do our best to showcase this little piece of Lincolnshire magic, and bring a vision to couples seeking a wedding venue with a difference.

At the end of the day, I think these incredible people did just that.

Goltho Gardens is simply beautiful and your wedding can be just how you want it to be surrounded by the peace and beauty of nature at its best and created by people who want only the best for you.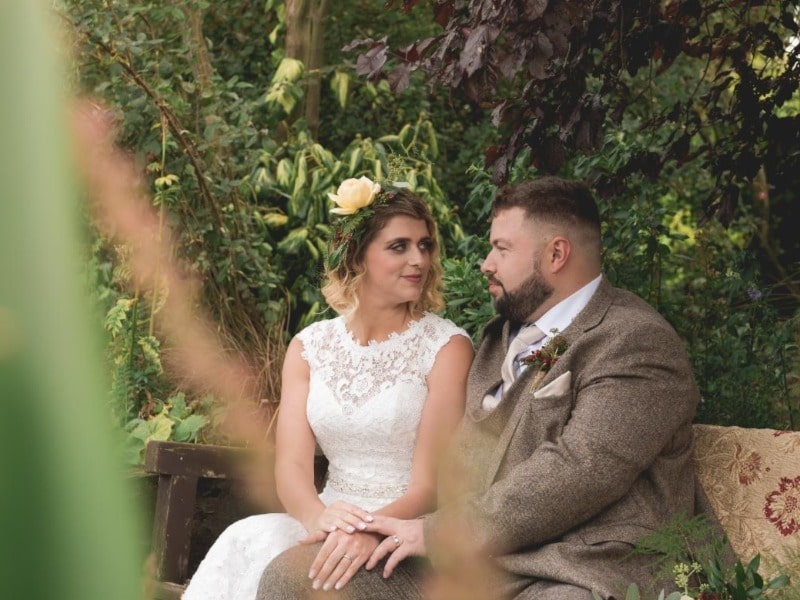 Hi, I'm Hannah, and I volunteered to model for the shoot at Goltho Gardens after meeting Gillian a few weeks before the shoot at my sister's wedding dress fitting.

I modelled a long time ago and really loved the idea of this shoot in such an amazing place and lets face it, who doesn't want to spend the day in a beautiful wedding dress and be beautifully made up and photographed?

When we struggled to find a groom for the day, well the shoot is showcasing a wedding venue so it does kind of need a significant other, my partner Lloyd stepped up and wow he made the puckering up shots so much easier.

When I met Gillian I knew I wanted to work with her as she has great enthusiasm for everything bridal.

The appeal of helping promote a new wedding venue was an exciting opportunity and on the day, meeting everyone was an amazing experience.

Every supplier worked so hard to make everything perfect.

The day was filled with lots of laughs and the photos reflect the beauty that Goltho Gardens has to offer.