The Wedding Planner Handbag…
I recently discovered a wonderful small business on Twitter and I am so glad I did because I am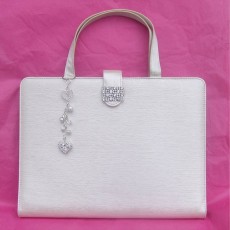 now a proud owner of one of their products – The Wedding Planner Handbag!
Although I am not planning my wedding or anyone elses, I am going to use this bag to plan my wedding fayres.
It is simply gorgeous and was kindly personalised for me by the lovely Christina who sells the product online.
This product is stylish and has all you need to be able to plan your big day.
With downloadable print outs on her site too, you will never be short of the paperwork that you need to replace any in your bag.
Go and see for yourself how great they are and what is included in the great price too!