The year I moved from my home in the UK to New York was a particularly cold Winter.  I moved in on the 4th January in 2011, and the snow was piled high around every car stuck on the street outside our new apartment.  
Winter is COLD in New York.  
It isn't usually as cold and snowy as it was that year I moved to New York but don't underestimate how cold it can be, just because the skies are blue in many photos.  On the other hand, Summer in New York is HUMID, and I got married on July 1st in Central Park, and lucky for me it was the least humid day of the Summer and my hair stayed straight!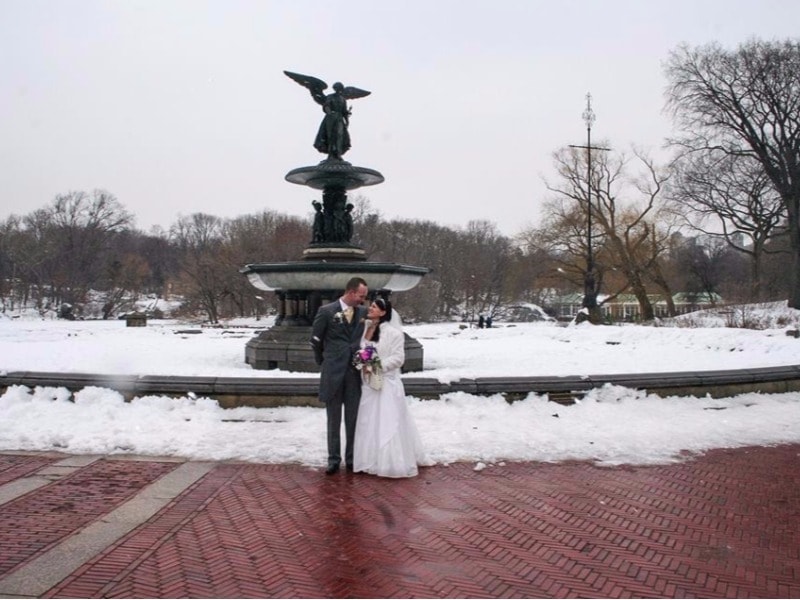 As a wedding planner who specialises in weddings in Central Park, and dabbles in a few weddings here and there in other outdoor locations in New York City, my busy season is April to September.
We don't see many weddings in the Winter months. 
But, you know what?  I think the Winter weddings might be my favourite.  Here are some short stories of some lovely Winter weddings I have been lucky enough to have been a part of.
Lauren and Andrew got married in the Ladies' Pavilion in November. The seasons change at slightly different times each year, so we can't quite predict exactly when the cherry blossom will fall in the Spring, or when the leaves will turn orange and red in the Fall.  But the year this couple got married, we still saw beautiful colours on the trees in Central Park. They had a small group with them to witness the wedding and they were blessed with beautiful blue skies on their wedding day. Lauren wore a lace wedding gown, but had a custom-made shrug to go with it to keep her warm.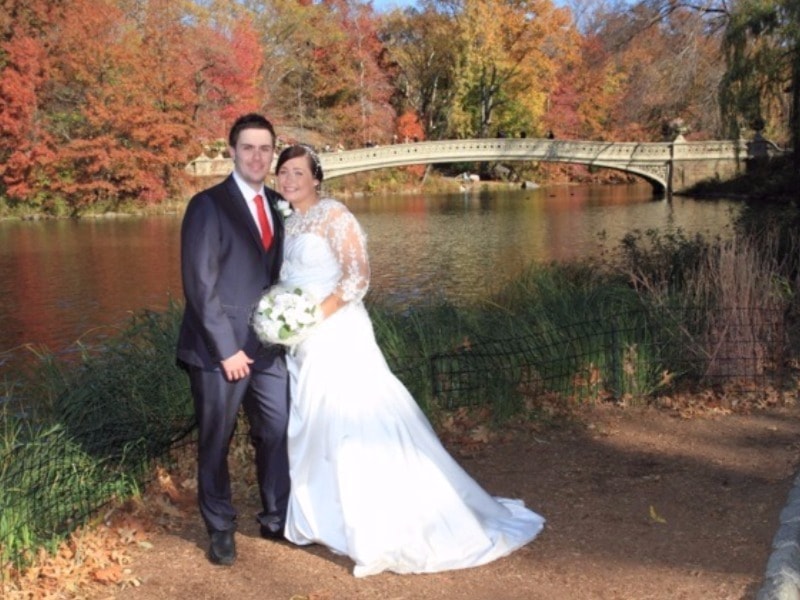 Nicola and Nicholas got married in the Ladies' Pavilion in the snow in February.
They eloped and married with just our guitarist singing to them and the officiant and photographer. Then they had a big party on their return. Nicholas wore his kilt, and Nicola wore her gown, but kept her coat on for the ceremony, and took it off for some posed shots later.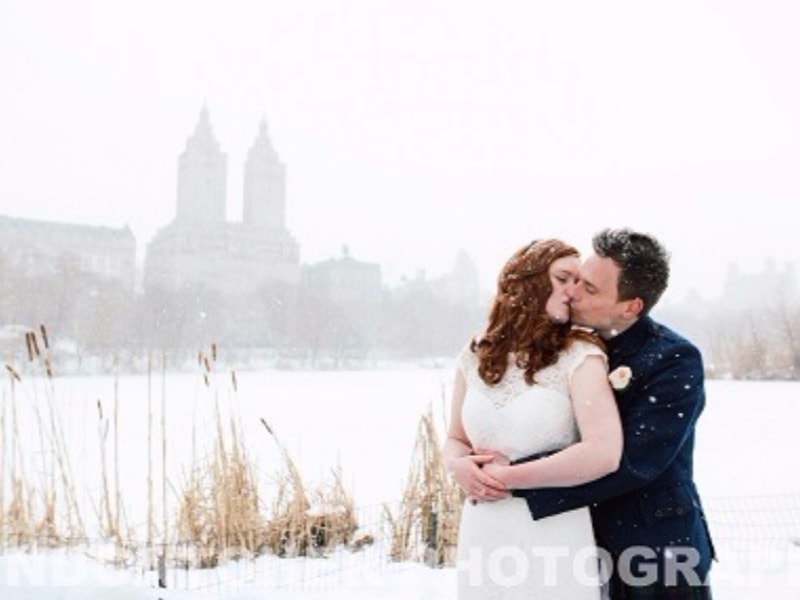 Camilla and Carol got married at the end of December in the Ladies' Pavilion.  They had started to plan a traditional wedding at home and had decided that it would involve too much fuss.  They already had the New York trip planned so they decided to get married while they were there.  They married at twilight and everyone kept their coats on, with festive buttonholes for them all.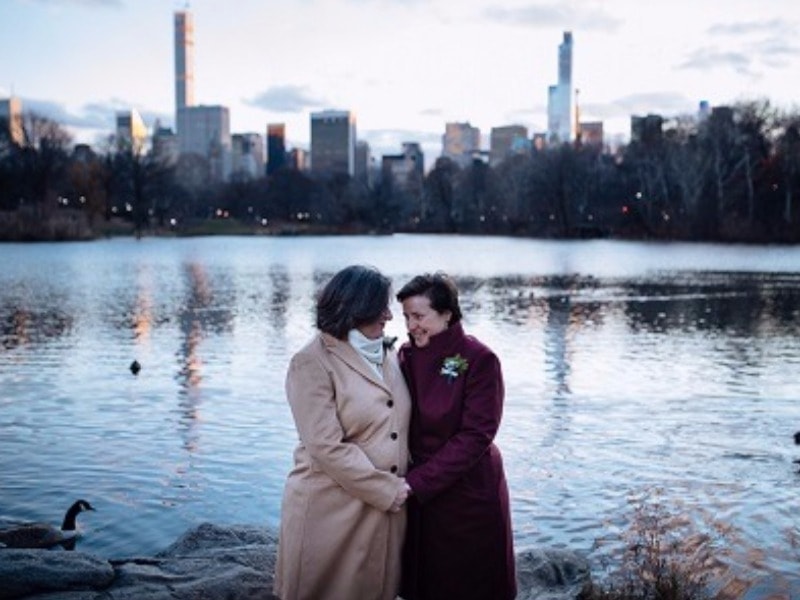 Alice and Jim had booked a holiday to New York for Alice's birthday, and they were talking about it when, after a beer or two, Jim casually said "we could totally get married in New York, I'd so do it."  Then the following day they talked about it more seriously and decided that elopement was right for them. Alice told Jim he did not have to get an engagement ring but he did anyway; he said he was going to wait until Alice's birthday (two days before their wedding day) to give it to her, but then having the ring and thinking about doing it was making him stressed so in the end he gave it to her before the trip. They married in the snow at Wagner Cove.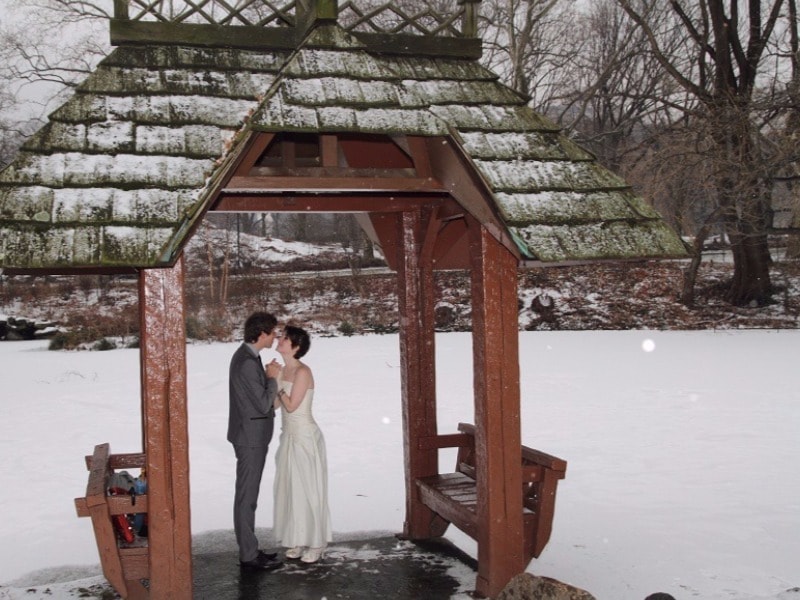 Mallory and Adam got married in Cop Cot in the week between Christmas and New Year.  Cop Cot is a bare wooden structure in the Winter, but it is covered in foliage by the end of the Summer.  Mallory had always dreamed of a wedding at Christmas so it was perfect for her.  They brought close friends and family with them, and Adam's father is a minister so he was able to marry them.  The bride and bridesmaids had fur coats and shrugs to keep them warm, but took them off for the ceremony.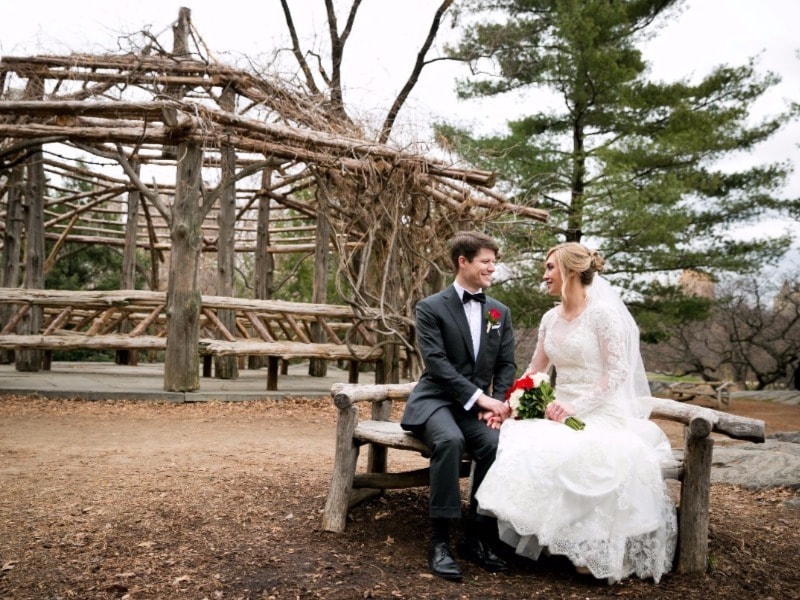 Sharon and Geoffrey – New Years Day
Sharon and Geoffrey got married on Bow Bridge on New Year's Day.
They had been together for ten years, and engaged for six of those years. Sharon had had some serious health issues which had reminded them of the important of having each other's support in sickness and in health, so they decided now was the right time for them to get married.
So, they eloped from their home in Australia.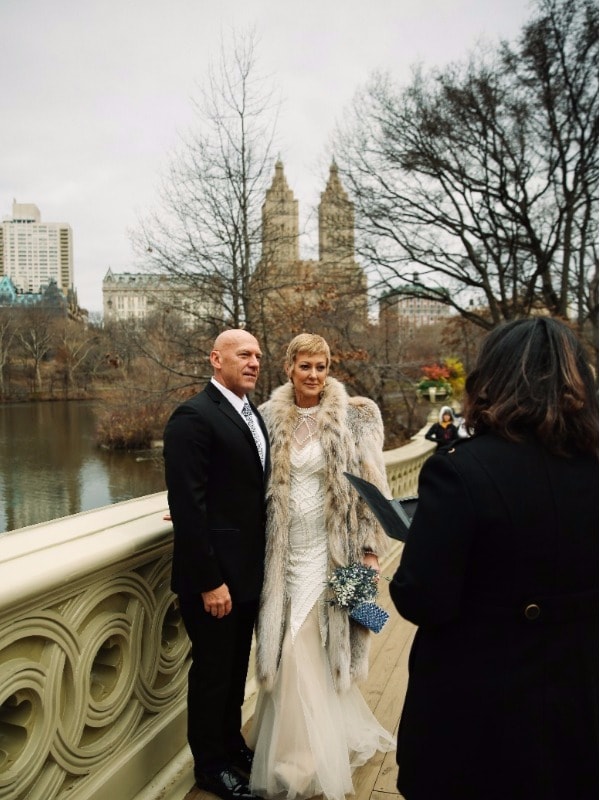 Why Winter Weddings?
I'm not sure what it is about Winter weddings that I love so much.  I don't know if it's because we see less of them than those that take place during the warmer months, so the photos are even more unique than other weddings in Central Park, or if it's because Central Park looks so unbelievably beautiful in the snow, or if it's just because it's my quiet season so I can relax and enjoy them more.
But, I love Winter weddings!
Want some Winter Wedding Tips…
For more tips and advice on getting married in the winter > Click Here