Written By Holly…
The Style My Lady (a.k.a me hehe) has been working hard over the last few months to get it to where it is now.
There is still a lot that I want to do with it but for now I'm happy with it.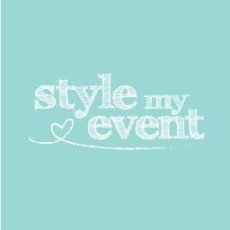 Your readers can go to our prices and packages page www.stylemyevent.co.uk/prices-packages.php where they can see that we are very transparent with our prices and are offering further 15% reductions for 2013 on bookings over 60 (will even honour the reduced price for 2014 bookings if booked this year!).
We do think that we are offering bargain prices; to think that it includes free delivery, set up and collection, colour match service and chair cover check with the venue plus a free initial consultation.
We are only too happy to provide a bespoke venue dressing and ideas service too where we will work on moodboards and provide inspiration where possible to those who have no clue where to begin on their theme.
I have also started a Style My Event blog which can be accessed via the blogger link from our homepage, this blog will provide updates of our work but also will have some funny stories about life as a busy working mum with her own business and little one tagging along i.e. apprentice 11 month old venue dresser hehe!
For more information on Style My Event > Click here