Written by Sian…
Amethyst Weddings was born from my love – or should that be obsession – with all things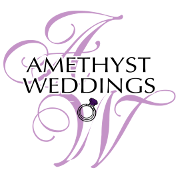 wedding. It started as research for my own wedding, became a hobby afterwards and once my maternity leave officially ended I decided to make it my full time job.
When I'm not looking after my little boy I'm submerged in the world of weddings, keeping up to date with the latest trends and ideas as well as sourcing local suppliers to meet a variety of budgets.
As a Hampshire based wedding planner we are able to offer a comprehensive knowledge of the area and local suppliers. Combine this with our passion for weddings and attention to detail and your wedding day will be as unique as you are. Since its conception Amethyst Weddings has had several articles published in a wedding magazine and occasional guest blogs on various wedding websites.
So what you can you expect from this wedding consultant? Passion – our aim is to demonstrate to you our raw passion for weddings from our initial discussion right through to your wedding day. Personal and friendly service – we want you to have the wedding day you have always wanted so we need to get to know you, your likes as well as your dislikes.
And last but not least, the wedding you want not the wedding we think you should have – we will have as much or as little input with your wedding plans as you want us to. We don't have inflexible planning packages; our service is tailor made to your requirements. Whether it be advice about how to start planning or how to incorporate a mutual hobby into your reception décor, we can help you.
For more information > Click here