Written By Linda…
Do you want a wedding ring made especially for you but feel it might be too risky or too expensive?
Spirito d'Abruzzo are a design and manufacturing jewellery business who specialise in bespoke wedding and engagement rings.
You may be worried that you won't know exactly what the result will look like.
Will it be as you imagined?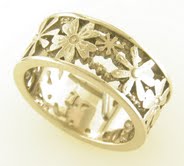 Spirito d'Abruzzo take away that uncertainty as once we have created the design we provide you with a fully rendered 3D 360o rotational image so you can see all aspects of your piece before it is made.
We can design unique complicated weaves, flower designs, symbols, set with gemstones, whatever takes your fancy.  Your basic requirement is to know what shape and width suits your finger and we can go from there.
Email or phone Linda or Dominic for a chat or arrange for your free initial discussions.
Small working business with no salesmen and certainly no hard sell.
For more information > Click here