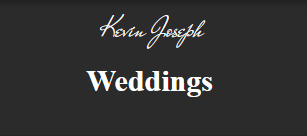 We capture your wedding memories on film and Photograph...
Kevin Joseph is widely regarded to be one of the North West's premier wedding Photography/videography companies.
You take the time to create the perfect wedding day, Kevin Joseph will create the perfect wedding day album or video for you to enjoy for years to come.
We specialise in telling the wedding day story naturally, using the sights and sounds from the day. We shoot the wedding day as it unfolds, capturing the drama and uniqueness of the celebrations.
Shooting in a unobtrusive style you will hardly notice us on your wedding day.
Don't entrust the filming of your special day to just any one! Choose a dedicated team of passionate creatives to shoot your day right.
Where do we cover?
Working from our studio based in the Corn Exchange in Liverpool, Merseyside we cover all of the U.K. counties with a focus on the local counties of The Wirral, Greater Manchester, Cheshire, Staffordshire, Shropshire, Lancashire, Derbyshire, Cumbria, Yorkshire, and North Wales.
We can accommodate any U.K. or destination wedding by request.