Classic VW Moments brings Daisy…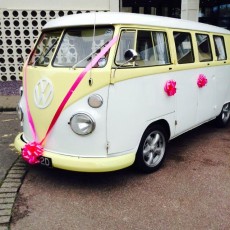 This local family company brought along their fabulous campervan, Daisy to the event on 11th of May and she looked stunning with her gorgeous bodywork.
Daisy also doubles as an outside photobooth which is great fun for brides and their ensemble before they reach the wedding venue to get some unique pictures done to remember the day.
Heide and Jonathan own Daisy and they are such a fun and friendly couple.
For all the info on Daisy > Click Here