Cakes by Shelly is delighted to introduce their new 2013 'Red Carpet Collection' Perfectly suited to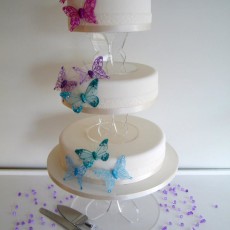 reflect the diversity of brides' tastes, Shelly has created an exclusive range of seven individual designs from intricate pipework to classic drapes all available to order from the design studio in the Wedding Courtyard in Leighton Buzzard.
Shelly Shulman of Cakes by Shelly said: "We want to ensure that each and every wedding cake we produce is unique to the Bride and Groom so each design can be customized from the filling, to the colours and the design details"
Prices start from £350 for a three tiered cake and all cakes are available in Shelly's 11 different delicious flavours including Belgian Chocolate, White Chocolate and Raspberry and their unique Champagne Sponge. Dietary Requirements can also be catered for.
For more information > Click here