Tiara's N Teir's "All that blings, Your wedding boutique"
Offer a wide range handcrafted  bespoke items for your wedding day all under one roof.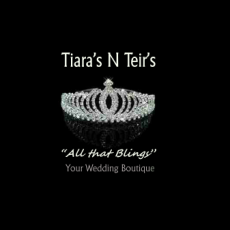 We specialize on designing bespoke tiaras, head pieces and jewellery.
to our Bespoke alternative wedding bouquet and traditional bouquets , not forgetting  our traditional Venetian wedding masks.. handcrafted  sparkling wedding veils and birdcage veils.
Bridal shoes all the way down to your garter, bridesmaid dresses ,cravats and cufflinks, also personalized gifts .
We offer a free 5 step guide on choosing your tiara and a Free consultation to all our brides with no obligation this can be via phone, Internet or  in house call (appointment needed) this enables us to be able to provide this service anywhere in the country.
We aim to help make the right choices and  your shopping experience with us  a pleasurably one.
For more information > Click Here