Beautiful Cousins…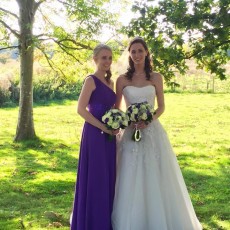 So, on Friday, 2nd October 2015 my little family of four travelled down to Sussex to see my gorgeous little cousin get married!
It was a beautiful day, the sun shone throughout and the new bride and groom looked so amazing and happy, it was a real pleasure to be part of their special day.
The venue was Hickstead Hotel in a wonderful countryside location, all the guests gathered there to wait for the brides arrival.
The ceremony room was decorated in gorgeous purple petals down the aisle with lovely white chair covers and white sashes. The candles were romantically burning and there was sweet music playing while her nervous groom awaited his new wife!
When she arrived, after the beautiful bridesmaids (one of my little cousins in there too), she looked stunning! A long white strapless gown with encrusted diamantes and a perfect length veil. She was simply one gorgeous bride and her face beamed as she walked down the aisle to meet her new husband!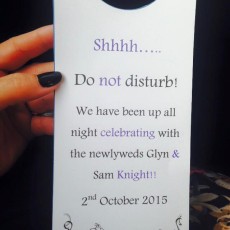 After the cute little ceremony, we all gathered in the grounds of the hotel for the photos where the sun gleamed down on the wonderful couple.
A three course meal and party to end the day with a surprise flash mob dance display by the bridal party!
We would like to personally thank Samantha and Glynn for inviting us – we had a blast!
Check out the door hangers that each guest staying at the hotel received on arrival. What a great idea.!
Congratulations Mr and Mrs Knight!