EXHIBIT WITH US AT OUR WEDDING FAIRS IN 2018
Why Exhibit with Wedding Day Angel?
Exposure to an estimated footfall of 300+ visitors per show
Meet engaged couples who are serious about their wedding plans
Promotion of your business to over 23K+ followers on social media
Your information sent to 750+ bridal database across Essex and London
A featured listing on our 2,500+ UK wedding directory & Essex directory
Category Limits so you don't have as much competition on the day
Family run fairs so more of a personal touch to the experience
Be featured in our digital bridal magazine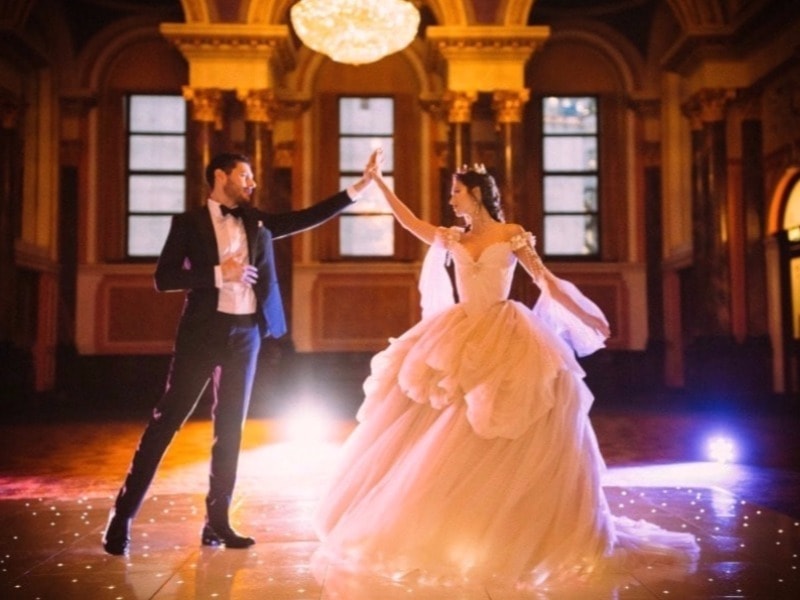 See what our Wedding Fair Exhibitors have said…
We exhibited with Wedding Day Angel at The Chichester Hotel Wedding Fayre on the 22nd of January 2017…..WOW What a fantastic show!
The welcome we received when we arrived and set up right through to when we left was lovely. The venue and venue staff were fantastic…The atmosphere was great.. and the enthusiasm and expertise of our fellow wedding suppliers was extremely high. Brides, grooms and their families were queuing long before the doors opened and the numbers were consistent all day… In fact even though there were two of us exhibiting our wedding rings we didn't even have time to stop for lunch! We chatted to people who visited our stall continually all day and made numerous appointments for private consultations. I can honestly say that it was a really enjoyable day.
The hard work and behind the scenes preparation for this wickford based wedding fayre was of a very high standard….hence the day was so successful.
We will definitely be booking a wedding fayre with Wedding Day Angel again.

It was truly a pleasure…..
As an exhibitor at wedding fayres I look for great organisation & excellent marketing of the event and Traci delivered in both fronts.

Several bookings and a great atmosphere. Thanks Traci.
Such a fantastic experience. Traci was so supportive of my new business from start to finish and I really appreciate all of her help. Will certainly be signing myself up to more fairs with this company 10/10 x
I really cannot praise Traci and her team highly enough.

Thank you for having us at the Chichester Wedding Fair yesterday. It was so well organised, a wide variety of companies all who had plenty of space to showcase our businesses. It was the first time that I have exhibited my flowers with Wedding Day Angel and I would most certainly do it again. Very well promoted on social media which meant that there was a steady stream of couples coming through the door, we really didn't stop all day, which was great! Thank you and see you next time x
We would just like to say how well the Wedding Fayre went on Sunday. It was very well organised and cannot believe how well you promoted the event, before, during and after the fair.
We have already had 4 bookings and several more enquiries which is absolutely brilliant as usually it takes a few weeks to filter through.
Thank you once again.
Exhibited once again with Wedding Day Angel at The Chichester.
Extremely well planned, all exhibitors given equally good stand locations, refreshments provided for exhibitors too. All this for a very reasonable stand fee.
Steady stream of couples and we took a record amount of firm bookings, even one in the last few minutes of the Fair. Plenty of photos and organiser contact before, during and after the event too.

Put us down for the next one.
Wow what a busy day yesterday at the Marks Tey hotel wedding fayre. I have never talked or smiled so much! Thanks for the crisp organisation of the event, lots of brides to talk to and fabulous advertising leading up to the event. I booked a couple of follow up visits with brides to discuss potential wedding orders and got lots of positive feedback also during the day.
Thanks again for all your hard work.
Get in touch today by emailing info@weddingdayangel.com to enquire and book a space at one of our wedding fairs – we will start promotion of your business straight away!
Want to be part of our Successful Wedding Fairs?
We started running wedding fairs back in 2012 just as a one-off event but we enjoyed it so much and had such a great turn out, (queues out the door) that we decided to continue and have to date (Jan 2018) held 16 wedding fairs across Essex.
Other venues in Norfolk, Essex, London and Kent have since approached us to run wedding fairs at their venues, which is something we are very proud of.
Our small but quality wedding fairs are run by myself, Traci, aka, Wedding Day Angel, and my husband, aka, Mr WDA! This ensures we are able to provide a personal service and this is something that our exhibitors and visitors really appreciate.
You will always be welcomed on the day and we try and make sure that we speak to everyone during the day to make sure everything is ok and if they need anything. We believe building relationships with our suppliers is key to them returning and booking with us again and again.
We have been supporting small businesses with Internet Marketing services for over 10 years, and because of our online marketing expertise, this ensures we always attract a great number of visitors and engaged couples to our fairs, who are serious about their wedding plans and making bookings with local suppliers.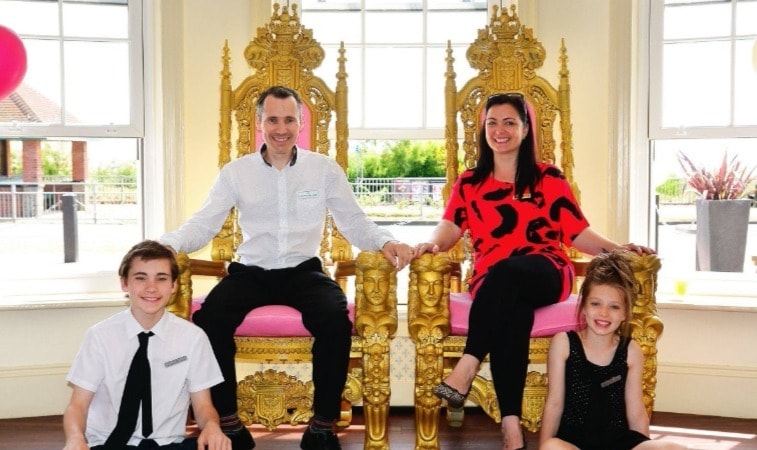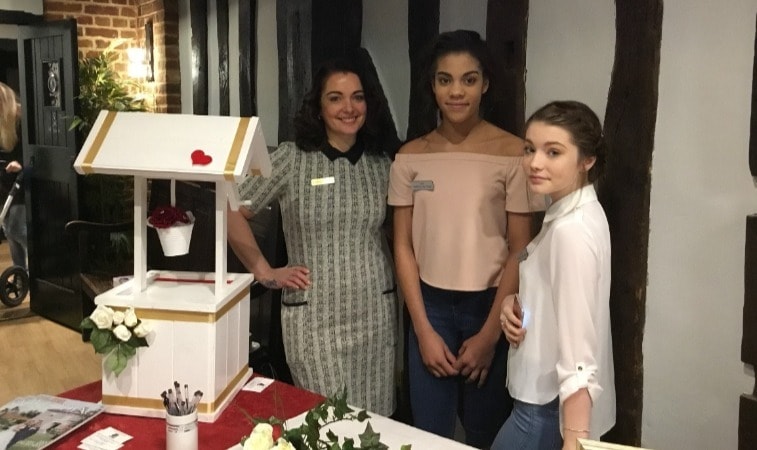 A really lovely day out at The Chichester Hotel wedding fair on Sunday 22nd Oct. Having my best friend and 2 bridesmaids with me was a lovely experience. The selection of exhibitors was really nice, I even managed to book something for our big day. A thoroughly lovely, informative day out. We even preferred this to the National Wedding Show at Olympia because it was so relaxed. Thank you Wedding Day Angel.
Award Winning Wedding Day Angel
As mentioned above, we use social media to promote our wedding fairs and in 2017 we won an award for it!
This year, we are attending another award ceremony for 'Best wedding fair organiser' 2018 as we became a finalist which we are extremely proud of.
We promote each business as they book in to attend our fairs and use social media paid advertising to promote our fairs to thousands of engaged people in the areas where we are holding the fairs.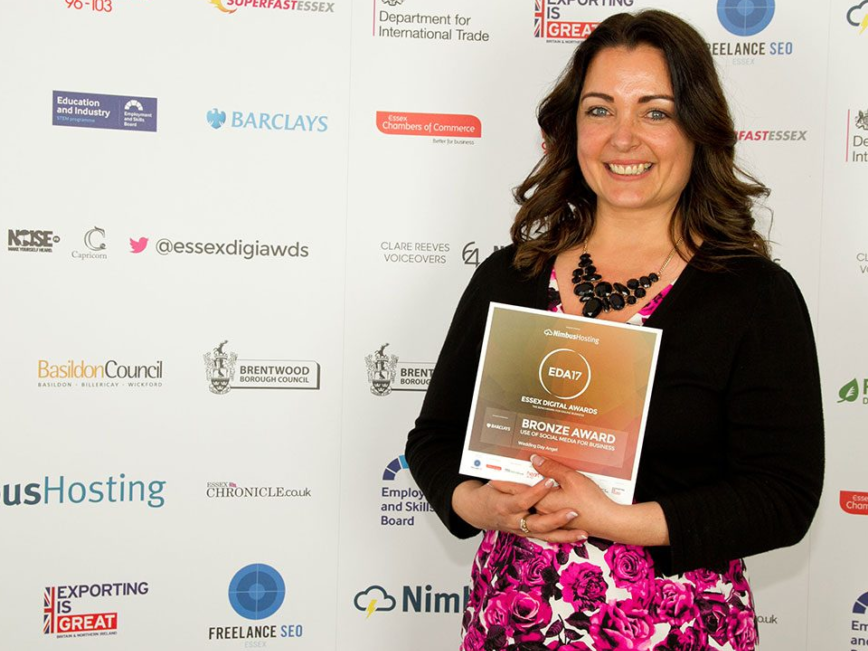 Get in touch today by emailing info@weddingdayangel.com to enquire and book a space at one of our wedding fairs – we will start promotion of your business straight away!